Recently Terry O'Reilly (spelled correctly) lamented how the Canadian advertising industry doesn't document its work, much less have a museum showing off its most famous campaigns. I could relate. Most of my physical portfolio was destroyed in a flood we had some years back and, like my country, I'm too distracted to save my work.
Sure I could post what I've done for you lately, but most of my own award-winning advertising work happened while I was full-time in agencies. (Nobody hires freelancers to do the fun stuff.) So I was pleased to find a few of these pictures, taken by my friend Ronnie Fung who typically photographs hot cars and not 20-year old advertising.
Newish piece # 1: Adecco HR stunt, from when I was VP Creative Director of Lowe RMP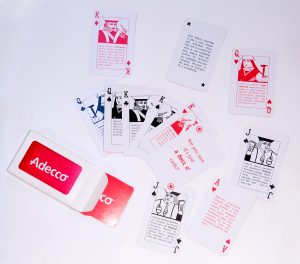 The creative problem: our temping agency client, Adecco, wanted to be top-of-mind precisely when human resources managers needed to hire clerical, finance or light construction staff. We had very little money in the budget (as always).
"What do HR people even do?" someone asked. "They probably just sit around and play cards all the time until they suddenly need to hire someone." Presto! Sometimes the concept writes itself.
Painfully punny headline: "Are you sure it's just a decc o' cards?" (NB: Sometimes a pun is OK. Just don't fill your portfolio with them, kids. My all-time favourite pun was for a corn chip brand, announcing 25% extra volume: "Bonus nachos, Señor!" Be-duhm-tss!)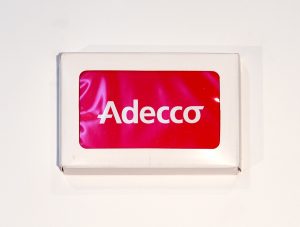 We didn't need to hire an illustrator for the cards. Eric Bélanger the art director just scanned those centuries-old pictures from a random deck of cards and Photoshopped a receptionist's headset on the king (#feminism), a hardhat and hammer on the queen (#ditto) and douchey suspenders on the jack. The copywriter was Micki Lubek, née Man. She sold the individual services on each face card.