The following is an earlier draft of a story I wrote for AutoTrader. Here's the original but I wanted to share the below because of the nature of the article. It was about the closest you can get to wish fulfillment without beginning the story with 'Once upon a time'. But upon completing the draft I decided it was too much about the fantasy — an all-expenses-paid opportunity to record at the legendary Fame Studios in Muscle Shoals, Alabama — and not enough about the car.  So, take it away, Past Steve . . .
Of Apathy, Fantasy Fulfillment and the 2016 Chevrolet Malibu Hybrid
05/04/16: It's nearly midnight, I'm half drunk and touching — with my fingers — the master recording that Gregg Allman made earlier this week. Yes, that Gregg Allman and this week. Ten minutes earlier, I was recording in the same vocal booth he'd sung in three days prior. Five minutes later, my friend Peter and I are holding decades-old recordings by Otis Redding, Wilson Picket, Clarence Carter — they were just lingering on another shelf.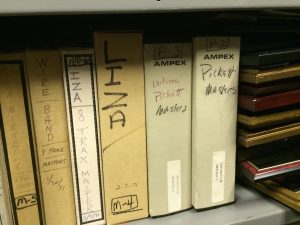 OK, I'm not half drunk, but wholly so. Still, in the words of the surprisingly not dead Slash, "that doesn't mean it didn't happen." Don't pinch me.
Welcome to what may be the most fractured story you read this year.
GM USA invited eight automotive writers including two Canadians, all hobbyist amateur musicians of varying levels of talent and polish, on a magical mystery tour down part of the Gold Record Road in the heart of the South. The PR team would only say the trip begins in Nashville and culminates with "a big surprise you'll love" during a visit to Fame Studios in Muscle Shoals, Alabama.
It's hard to explain what a visit to Muscle Shoals' famous studios means to a music enthusiast. Mecca with alcohol? Heaven with electrified harps? Willy Wonka's chocolate factory without the creepy child-killing? This was bucket-list stuff.
Somehow, my name accidentally got on the list and I greedily accepted the invitation before they could rescind. I sort of "knew" it had be the opportunity to record; anything else would be a letdown after such a teasing intro. My mind was swimming. Oh and, by the way, "you'll be driving the 2016 Chevrolet Malibu Hybrid," they'd said.
"We are storytellers," Joe Jacuzzi from GM explained, 13 hours earlier.
Press trips always begin with a presentation by the hosts. "The trouble Chevrolet has been facing and fighting lately is public apathy. We need to get our story out there." Actually, it's a good story they have. Chevrolet has rethought and re-launched all of its products within the last three years, five of them this year alone. And all these new products sell for less than last year's models while delivering more perks and better performance.
Now you may wonder: Why would an auto vendor want to tell stories when what they need is to deliver sales? Good question. It's been proven (as much as it can be with studies of the brain) that humans learn from narrative. Storytelling is how we passed wisdom on and survived as a species; so no wonder we love them. When a marketer's story touches you, you're more likely to remember the product when it's time to purchase.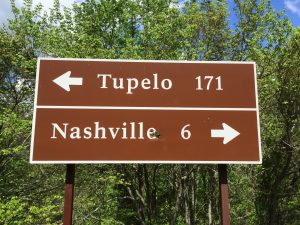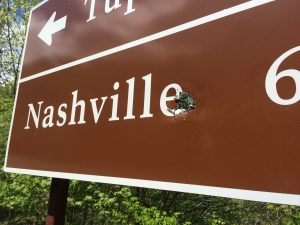 So what is the story here, I wondered? The Chevrolet brand does feature deeply in American pop culture to be sure, especially music. This trip was a musical journey into the very heart of Americana where Chevrolet traditionally lies. But I never pictured Rapid Roy the Stock Car Boy in a Spark on Sunday afternoons, nor Don McLean driving a Malibu to the dry levy. The citizens of Muscle Shoals and Malibu do both factor heavily into the American music scene but the respective cultures clash. (Try saying "Malibama" without smiling.)
Then it hit me: American music, especially rock and roll is, by definition, a hybrid: "a thing made by combining two different elements". Rock and roll, one of America's greatest gifts to the world after Chia Pets and Slinkies, is a hybrid of traditional black and white musics: blues, gospel, country and bluegrass. This idea for a story could work just fine.
But it wasn't needed. Once we got in the car for the drive to Muscle Shoals, I realized it's a damn good car that speaks for itself.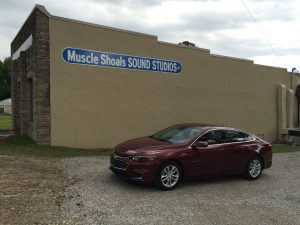 The 2016 Malibu looks more European than traditionally American.
We got the Malibu Hybrids out onto the road out of Nashville, heading south. This is territory where rock and roll was born of country and the blues. Elvis would've driven some of these roads. Several of us stopped at Hank Williams' farm, which is now owned by Faith Hill and Tim McGraw. I'd call it a once-in-a-lifetime experience but had just been here driving the Chevrolet Cruze, which looks like a kid brother of the Malibu, two weeks before. I even took a few similarly posed photos.
The Malibu Hybrid is a comfortable and quiet ride. Which was great for listening to music with the sunroof open and the blessed southern sunshine pouring in. If it had been cold, I could've experienced an interesting feature, uncommon for the price. The thermal recovery system takes heat that would typically leak out the exhaust pipe and use it to warm the cabin. That's just the heat. You won't asphyxiate.
The powertrain borrows ideas from the new Volt but is not the same. The 1.8L 4-cylinder engine is larger than the Volt's 1.5L and smaller battery housed and cooled in the trunk. It's small enough that you can put the back seats down and make use of the space.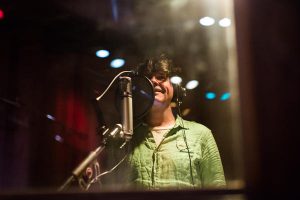 The transition between electric and gasoline powered drives isn't noticeable unless you're looking for it. In fact, it's not meant to feel like a hybrid at all. Driving the Alabama highway on my last miles into Muscle Shoals, the mind meanders like the Tennessee River. I start singing along to the radio, appropriately playing Lynyrd Skynyrd as though we'd requested it, "'cause I don't feel like a hybrid, and this 'brid don't never change." OK, so it ain't Shakespeare but . . .
Speaking of the actual meaning of hybrid, this car includes a regenerative braking system and regular, umm you know, brakes. You can maximize the efficiency of the former by getting to know the cruise control well at highway speeds. It also warms up your fingers for playing music at the end of a day's driving. I slowly rolled into the Shoals Hotel parking lot, breathless with anticipation and as giddy as a maiden on her wedding night.
The Producer knows Sheryl Crow, Carrie Underwood, Keith Urban and ... me.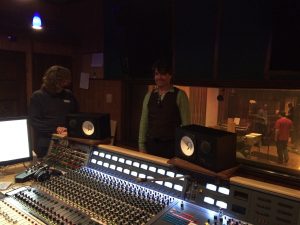 This town hasn't assumed its own value as a tourism draw yet; a pity, because the music that's come out of here — the population is 9,000ish — rivals LA and New York. There are two famous recording studios in Muscle Shoals. A bus takes us first to 3614 Jackson Highway, The Swampers' legendary space where the Stones recorded Brown Sugar and Wild Horses. It looks like a tiny, down-on-its-luck legion hall. Next, Fame Studios, Rick Hall's musical Shangri la, isn't much more impressive, looking like a suburban burger shack that had its last bath in 1978. Their neighbourhoods feature clapped out plazas with gun stores and pharmacies side by each. (Get your schizophrenia meds and ammunition in one trip!) "Want to see inside?" we're asked.
"Of course, but what are we doing here?" I ask the GM team, who smile back, excited to let the secret out very, very soon. First, dial the clock back 24 hours.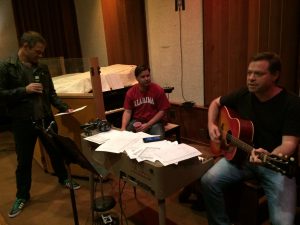 No one blames you for not trusting all you read on the Internet but, according to Wikipedia, Frank Rogers' "work has resulted 39 Number One songs, over 70 Top Twenty songs and multiple RIAA certified multi platinum, platinum and gold records." He couldn't possibly need the money, so we surmise that he must really want to work with us. On this trip's opening night, we meet him in Nashville over a private dinner and learn that we will not be leaving the room till we've composed a new song together — because songs are stories and we're all storytellers.
Somebody suggests an ode to a character who exists only on Facebook called Frank Bacon, an amalgam of all the worst traits you find in junketeering auto journalists. You can picture it. He brings an empty thermos into business class and leaves flights with it filled. He invents diet restrictions to drive publicists insane. In our story, inspired by his favourite childhood nursery rhymes and teen movies, he comes to breakfast, "demanding curds and whey". Three hours and several gallons of expensive whiskies later, we have a draft of the Ballad of Frank Bacon who "wants you all to know, he was disappointed with the quality of blow". It was getting confusing having two Franks in the room — both of whom enjoy far better lives than us, even if one was fictitious — and Frank Rogers wished us a splendid trip to Muscle Shoals the next day.
Back to the present: "Oh my, is that the piano Alicia Keys was playing in the documentary?" I ask. The engineer confirms it. Here in Studio 2, which is decorated in a style best described as '70s suburban-basement-cum-treehouse, we will record The Ballad of Frank Bacon, produced by (oh, come on, stop it!) Frank Rogers who has just walked in the back door.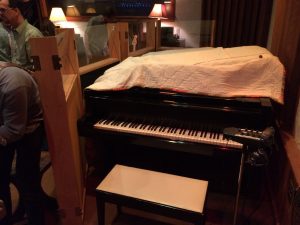 It's all too much. Aretha Franklin recorded here. Percy Sledge, Etta James, Linda Rondstadt, Art Garfunkel, Bob Seger, Rod Stewart, even Tom Jones and the Osmonds recorded here. Now we will. I will.
And I swear the piano bench is still smouldering from Alicia's perfect rump when I sit down to butcher a scale.
Five hours later, we're finished recording but it will take weeks to process all that's gone on here tonight — and that has nothing to do with the deliciously constipating effect of the mounds of Southern barbecue we enjoyed around 8pm outside in the parking lot. My friend Peter is glowing like a newlywed on the morning after. What he writes will be his last piece for the recently right-sized Toronto Star Wheels section. "It's good to go out on a bang," he agrees.
Extra goodies for your Malibu Hybrid dollars
Your Malibu Hybrid includes a rearview camera, MyLink Radio System with 7" touchscreen, compatibility with Adroid Auot and Apple CarPlay and the ability to turn your car into a Wi-fi hotspot (explained here).
Another feature to make anyone with a sense of humour smile is the Teen Driver, whose unique key for your son or daughter (let's face it: son!) triggers a modified driving experience. Teen Driver mutes the radio until seat belts are done up. It issues an alert when your teen exceeds a civilized, preset speed and piles on the interventionist safety technologies. Best of all, it sends parents a "Report Card" that no doubt provides many teachable moments for families. The parent of two young drivers in me doesn't disapprove — but when I was a kid this feature would've been called the Narc and about as un-rock-and-roll as you can get.
- By Steven Bochenek
PS. The story was written two months ago. GM actually did release a ready-for-prime-time recording of the song. If you'd like to hear and read along with the lyrics, email steven.bochenek02@gmail.com and I'll send it free. Just remember the composers and players were amateur and immature.