Recently Terry O'Reilly (spelled correctly) lamented how the Canadian advertising industry doesn't document its work, much less have a museum showing off its most famous campaigns. I could relate. Most of my physical portfolio was destroyed in a flood we had some years back and, like my country, I'm too distracted to save my work.
Sure I could post what I've done for you lately, but most of my own award-winning advertising work happened while I was full-time in agencies. (Nobody hires freelancers to do the fun stuff.) So I was pleased to find a few of these pictures, taken by my friend Ronnie Fung who typically photographs hot cars and not 20-year old advertising.
Newish piece # 1: Adecco HR stunt, from when I was VP Creative Director of Lowe RMP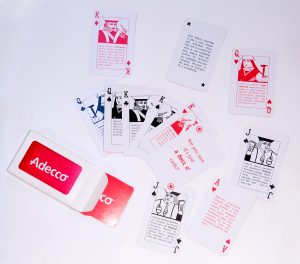 The creative problem: our temping agency client, Adecco, wanted to be top-of-mind precisely when human resources managers needed to hire clerical, finance or light construction staff. We had very little money in the budget (as always).
"What do HR people even do?" someone asked. "They probably just sit around and play cards all the time until they suddenly need to hire someone." Presto! Sometimes the concept writes itself.
Painfully punny headline: "Are you sure it's just a decc o' cards?" (NB: Sometimes a pun is OK. Just don't fill your portfolio with them, kids. My all-time favourite pun was for a corn chip brand, announcing 25% extra volume: "Bonus nachos, Señor!" Be-duhm-tss!)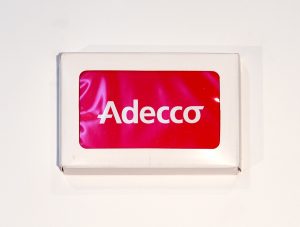 We didn't need to hire an illustrator for the cards. Eric Bélanger the art director just scanned those centuries-old pictures from a random deck of cards and Photoshopped a receptionist's headset on the king (#feminism), a hardhat and hammer on the queen (#ditto) and douchey suspenders on the jack. The copywriter was Micki Lubek, née Man. She sold the individual services on each face card.
Thanks go out to Shecky (the god of advertising) and apologies to offended hardworking HR people. I learned what they actually do on the day I was fired by Ogilvy.
Newish piece #2: Learning to Listen Foundation gala invitation, same agency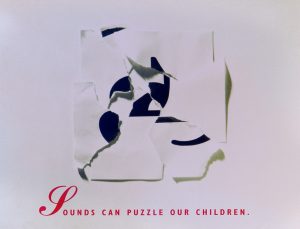 Imagine being profoundly hard of hearing or utterly deaf for the first 10 years of your life, then having a cochlear implant. The cacophony would drive you mad.
Consider. You wouldn't know what to focus on. The humming lights in an office, the background rumble of a passing streetcar, the distant barking of the neighbour's dog. The Learning to Listen Foundation teaches these children quite literally to listen. The 2nd year we won Strategy Magazine's Digital/Direct Agency of the Year, this client asked us to make an interesting invitation for their annual fundraiser.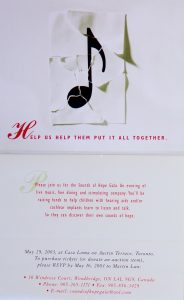 This piece arrived in the mail in a see-through vellum envelope with the recipient's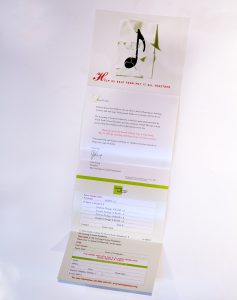 name and address on one side and just this visual tease on the other with the headline, "Sounds can puzzle our children." It captions a few torn bits of paper. You open the piece to reveal the piece reassembled to make a musical note with the kicker line, "Help us help them put it all together." Wow!
I remember when Soledad Miguez-Gonzalez (why do art directors have the coolest names?) showed me the concept, which she seemingly just pulled from the sky. (I think the writer was Jef Petrossi, who now teaches at Mohawk College.) I knew it was a home run and wouldn't be surprised to see the client clap at the presentation. It doesn't happen a lot but isn't unheard of.
Even I was impressed when the client saw it and immediately started to cry. Ask professional creatives you know whether that's happened to them. #UseYourPowersForGood
Newish piece #3: Eaton's Bridal Registry reminder postcard, still Lowe RMP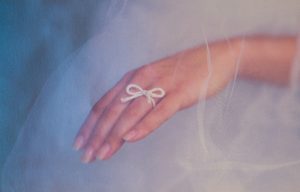 Remember Eaton's? That's how old this one is. But the idea is still smart. Here's the news we were trying to telegraph: For up 6 months after they've been forever transported into untold marital bliss, brides registered at Eaton's were welcome to a 10% discount on those bits on their list that were left unpurchased. Soup tureen, yogurt maker, silver plated fish knives, all that vital stuff that brides blush without.
A smart milking of aging data on the client's part, this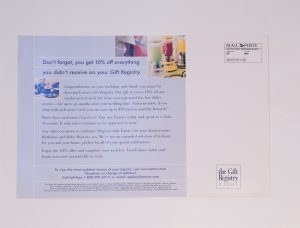 mailing was a reminder, which the registered received 3 months after their Happy Day. I think the veil and hand belonged to the art director, Carolyn Nicholo-Verkuyl (see above re AD's handles).
More award-winning to come, soon. Soonish. Like maybe in 5 years.